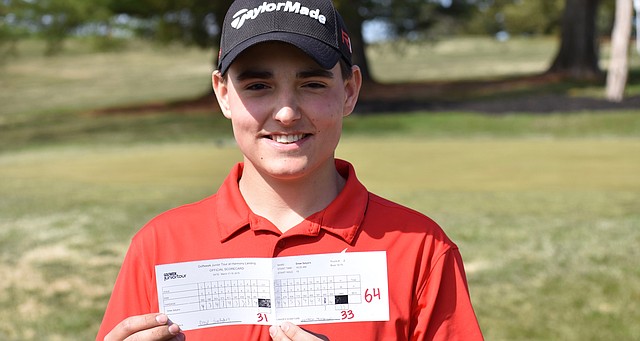 Photo Gallery
Harmony Landing 3/18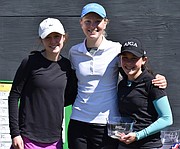 GOSHEN, KY. - Drew Salyers recorded the lowest Sunday round in Golfweek Junior Tour history as he erased a 5-shot deficit in winning the Boys 14-15 division at Harmony Landing.
Trailing Jay Nimmo by fives shots after Saturday's opening round, Salyers was near perfect on Sunday, recording five birdies and an eagle en route to a 7-under-par 64 and 7-shot victory. The 64 was only one shot off the lowest round ever recorded on the tour, but was the best round ever shot in the final round. He finished the tournament at 75-64-139.
Nimmo recorded rounds of 70-76-146 to finish in a tie for second place with Stephen Warren (72-74-146).
Griffin Hare put together rounds of 74-75-149 to finish alone in fourth place while Ballard Harris rounded out the top five with rounds of 73-79-152.
Doyle rolls in Boys 16-19
Drew Doyle went wire-to-wire with rounds of 68-68-136 to earn a 5-shot win in the Boys 16-19 division a Harmony Landing.
Doyle led Trent Tipton by two strokes after the first round then helped increase the margin with a birdie at Sunday's opening hole.
Jay Kirchdorfer made a strong Sunday charge and finished second at 73-68-141 while Tipton finished alone in third with rounds of 70-73-143. Campbell Kremer shot 72-72-144 to place fourth while Oscar Zimmerman (75-70-145), Benton Williams (73-72-145) and Sam Jean (72-73-145) tied for fifth place.
Bruch wins tight battle in Girls 15-19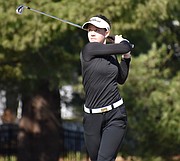 Jocelyn Bruch birdied the final hole and outlasted Madison Smith for a 2-shot win in the Girls 15-19 division at Harmony Landing.
Bruch finished with rounds of 75-74-149 and was able to flip a 1-shot deficit with four holes remaining thanks to three pars and a birdie at the last. Smith, who finished at 76-75-151, played the first 11 holes in 1-under-par to move ahead before a double bogey at 12 and consecutive bogeys at 16 and 17 dropped her to sole possession of second place.
Nina Hecht shot 79-77-156 to take third place while Taylor Edlin shot 78-79-157 for fourth place. Angelica Pfefferkorn rounded out the top five at 86-76-162.
Rabadam claims 8-shot win in Girls 14-and-Under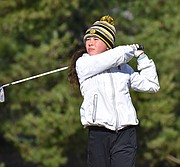 Julia Rabadam fired rounds of 82-78-160 in beating Kirsty Mitchell by eight shots in the Girls 14-and-under division at Harmony Landing.
Rabadam held just a 1-shot lead over Mitchell entering the final round and by just two shots through 11 on Sunday. Mitchell stumbled to a triple bogey at the 12th and Rabadam further widened the gap with a birdie at the 15th.
Mitchell shot 83-85-168 while Abigail Sutherland finished alone in third with rounds of 88-86-174.
Gee cruises to victory in Boys 13-and-Under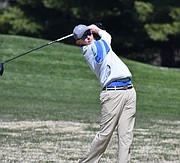 Oakley Gee's eagle at the 12th hole highlighted a huge final round that propelled him to an 11-shot victory in the Boys 13-and-under division at Harmony Landing.
Gee finished with rounds of 72-69-141 and was able to overcome a 1-shot deficit after the first round. He began his onslaught with a birdie at No. 7 then again at No. 9. Having taken a comfortable lead at that point, Gee posted a birdie at 11 before his eagle put an exclamation point on the victory.
Jack Snyder shot 79-73-152 to finish alone in second place while opening-round leader Wesley Beard took third place with rounds of 71-82-153.