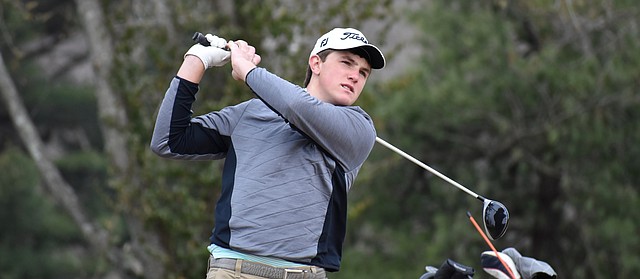 BOWLING GREEN, Ky. - Stephen Warren fired rounds of 70-73-143 in winning the Boys 14-15 and overall divisions in the GJT event at Western Kentucky University's Bowling Green Country Club.
Warren's 2-under-par opening round spotted him a 3-shot lead and he was able to hold on during a see-saw final round in which he carded four birdies and five bogeys. That left him five shots clear of Erik Fahlen, who shot 74-74-148 to finish alone in second place in the overall and 14-15 divisions.
Thomas Henderson finished third in the Boys 14-15 division with rounds of 73-78-151 while Griffin Hare took fourth at 76-77-153.
Stanley hold off Ranieri's charge in Boys 16-19
Ethan Stanley played the final nine holes in bogey-free 1-under-par in beating Joey Ranieri by one shot in the Boys 16-19 division at Bowling Green.
Stanley shot 76-73-149 and led wire-to-wire but not without a stiff challenge from Ranieri, who birdied five of the first six holes Sunday to apply the heat.
With Ranieri having settled in to a run of 10 pars to finish his round, Stanley carded a critical birdie at the 16th that made the difference.
Ranieri shot 82-68-150 to claim sole possession of second place while Jackson Franchville shot 79-77-156 for third. Bryce Robertson carded rounds of 77-81-158 for fourth place while Miles Miller (79-80-159), Jake Amann (80-79-159) and Garret Smith (83-76-159) all tied for fifth place.
Bruch rolls in Girls 15-19
Jocelyn Bruch played the final nine holes in bogey-free 1-under-par to claim a 5-shot victory in the Girls 15-19 division at Bowling Green.
Bruch put together rounds of 80-75-155 and overcame a 2-shot deficit in the final round. She trailed Gabby Thomas by one shot with seven to play and was error-free from that point.
Thomas played the last five holes in 5-over-par and finished at 78-82-160 to tie for second place with Lydia Swan (79-81-160).
Chloe Johnson shot 82-80-162 to take fourth place while Faith Johnson rounded out the top five with scores of 82-82-164.
Hanni outlasts Ritter in Girls 14-and-Under
Kate Hanni fired rounds of 84-85-169 to earn a 3-shot victory over Anna Ritter in the Girls 14-15 division at Bowling Green.
Hanni carried a 4-shot lead into the final rounds and never looked back on a victorious Sunday. After Hanni stretched her lead to six shots, Ritter applied some pressure with a birdie at the seventh and Hanni followed with a double bogey at the next hole. But Ritter would never get any closer than three shots of the lead and saw her chances go by the wayside with a double bogey at 14 and bogey at 17.
Ritter shot 88-84-172 to finish alone in second place.
Reber earns narrow win in Boys 13-and-Under
Charlie Reber shot 85-84-169 to hold off Alec Cesare by one shot in the Boys 13-and-under division at Bowling Green.
Reber was part of a tight group of four players all within four shots of the lead heading into the final round. He was able to gain the outright lead with his 42 on the front nine and was able to hang on despite two double bogeys down the stretch.
Cesare started the final round three shots behind Reber and pulled within one shot on two different occasions, but could never get over the hump and finished alone in second at 88-82-170.
Warren Thomis shot 85-87-172 to finish alone in third while opening-round leader Maverick Conaway placed fourth with rounds of 84-92-176.