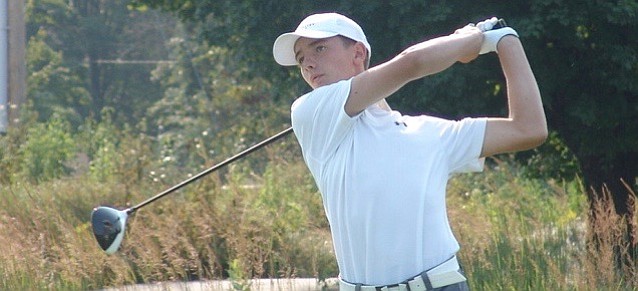 WEST LAFAYETTE, Ind. – Nicholas Dentino's par on the third playoff hole lifted him to victory in the boys overall division of the GJT event at Purdue University's Kampen Course.
Photo Gallery
Purdue 9/4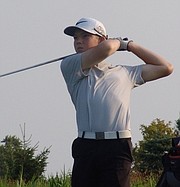 Dentino fired rounds of 75-74—149 to finish tied with Luke DeHaven and Erik Fahlen, who had already claimed victory in the Boys 14-15 division. After Dehaven made bogey on the first playoff hole, Dentino and Fahlen moved on to determine the overall champion. Two holes later, Fahlen missed his par putt and made Dentino the overall champion.
Dentino trailed DeHaven by three shots entering the final round and made three birdies on the closing nine, including one at the last hole, to force the playoff. DeHaven appeared poised for the victory, but made back-to-back double bogeys at 17 and 18.
Ty Gingerich shot 76-75—151 to finish in a tie for third place with Danny Paris (75-76—151). Evan Wray rounded out the top five with rounds of 78-74—152.
Fahlen takes victory in Boys 14-15 Division
Erik Fahlen played the final three holes in 1-under-par to rally for a 1-shot victory over Nic Hofman in the Boys 14-15 division at the Kampen Course.
Fahlen trailed Hofman by three shots entering the final round and moved ahead with a 2-under-par outgoing nine. After his double bogey at 15, Fahlen stood tied with Hofman and it stayed that way going into the last hole,where Hofman made bogey.
Fahlen finished with rounds of 76-73—149 while Hofman whot 73-77—150 for sole possession of second place.
Clint Bailes fired rounds of 76-80—156 to take third place while Griffin Hare placed fourth with rounds of 72-86—158.
Sohn rolls in Girls 14-and-Under
Reagan Sohn shot 86-84—170 to claim a 9-shot win in the Girls 14-and-Under division at the Kampen Course.
Sohn led Christina Pfefferkorn by six shots after the first round then tightened her grip on the lead with a birdie at No. 3 near the start of the final round. Sohn sealed the deal with her birdie at 11 that was part of a 4-shot swing in her favor.
Pfefferkorn finished alone in second place with rounds of 92-87—179.
Sabo hangs on in Boys 13-and-Under Division
Tyler Sabo survived a late triple bogey in beating Jayden Diaz by one shot in the Boys 13-and-under division at the Kampen Course.
Tied with Alec Cesare after a first-round 77, Sabo birdied the opening hole of the final round. Again tied headed to the final nine, Sabo posted birdies at 10 and 13 and led by four with four holes to play. All the while, Diaz was making his final-round move after an opening-round 84 and trailed by four at that point.
Sohn made bogey at 15 and triple bogey at 16 to see his lead trimmed to one, but he was able to make par on the final two holes to seal the victory.
Sohn finished at 77-78—155 while Diaz shot 84-72—156 for sole possession of second place. Cesare finished alone in third place with rounds of 77-80—157.