KETTERING, Ohio – Troy Taylor II's par on the first playoff hole lifted him to a victory over Nels Surtani in the Boys 16-19 division of the GJT event played at NCR Country Club.
Photo Gallery
NCR 10/29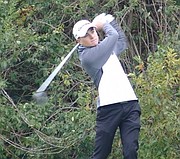 Taylor posted rounds of 70-70—140 in regulation to match Surtani, who shot 68-72—140. At one point early in the final round, Surtani built a 4-shot lead, but birdies at the 9th and 12th holes pulled Taylor within one. Three straight bogeys by Surtani from 14 to 16 put Taylor up by one before he himself posted bogey the last hole to set up the playoff.
Trevor Binau posted rounds of 74-68—142 to miss the playoff and finished tied for third with Austin Vukovits (73-69—142) and Austin Greaser (76-66—142).
Oscar Zimmerman (74-69—143) and Ethan Snyder (72-71—143) shared sixth place while Mason Wagner (72-72—144) and Ryan Clements (71-73—144) tied for eighth place. Rounding out the top ten was a quartet of players five shots back: Dhaivat Pandya (76-69—145), Dylan Stevens (74-71—145), Patrick Deardorff (73-72—145) and Jimmy Dales (71-74—145).
Wenzler rolls in Girls 15-19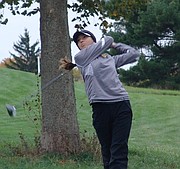 Marissa Wenzler torched the NCR course with a final-round 68 in running from the field of Girls 15-19 competitors.
Wenzler, who opened with a 79 and shared the first-round lead with Sarah Frazier, recorded four birdies against no bogeys through the first 17 holes in cruising to a 7-shot victory. Her domination started at the fifth, where she would start a string of three birdies over four holes and never looked back.
Frazier finished at 79-75—154 to tie for second place with Kristin Jamieson (81-73—154).
Manasa Potluri placed fourth with rounds of 83-80—163 while Grace Mitchell rounded out the top five by firing 84-80—164.
Harre earns narrow victory in Boys 14-15
Griffin Hare carded seven birdies in his final round en route to a come-from-behind 1-shot victory over Kash Bellar in the Boys 14-15 division at NCR.
Hare started the final round five shots off Bellar's lead then recorded birdies at 2, 3 6 and 7 with bogeys sandwiched between. That stretch put Hare within one, then it was his run of three birdies in four holes from 12 to 15 that gave him a 2-shot lead with three holes to play.
In the end, Bellar was unable to take advantage of two late bogeys by Hare in finishing second.
Hare posted rounds of 79-68—147 while Bellar shot74-74—148 for second.
Jack Beckett (77-73—150) and Braden Estes (76-74—150) tied for third place while Will Anderson rounded out the top five with rounds of 76-75—151.
Ritter dominates Girls 14-and-Under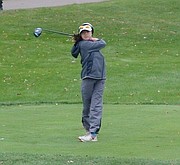 Anna Ritter fired rounds of 85-78—163 in rolling to a 6-shot victory in the Girls 14-and-under division at NCR.
Ritter held just a 1-shot lead going into the final round, but she was steady enough with 12 pars on Sunday to post the field's low round of the tournament.
Kary Hollenbaugh placed second with rounds of 89-80—169 while Katelyn Kuc shot 87-84—171 for third. Kirsty Mitchell, who trailed by just one through eight holes Sunday, fell back to fourth place with rounds of 86-87—173.
McCarrell takes Boys 13-and-Under title by three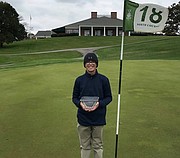 Logan McCarrell posted rounds of 72-74—146 in beating Joe Wilson IV by three shots in the Boys 13-and-under division at NCR.
McCarrell started the final round with a 1-shot lead and never relinquished it by starting the final round with pars on each of the first eight holes. At that point the lead would move to two shots and never fall below that the rest of the day.
Wilson finished at 73-76—149 for sole possession of second place while Ben Armbruster took third place with rounds of 74-76—150. Rounding out the top five were Cayden Pope (75-76—151) and Jack O'Donnell (78-74—152.