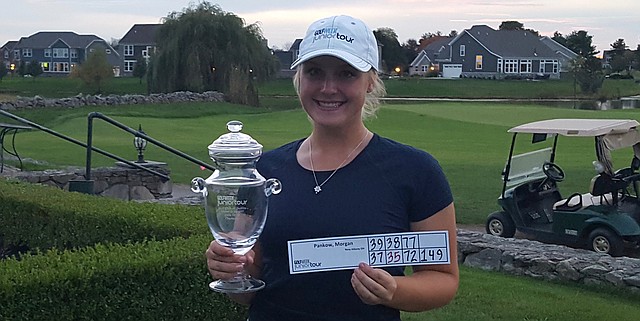 DUBLIN, Ohio – Morgan Pankow rallied from a 7-shot deficit in the final round to pick up her first Golfweek Junior Tour victory in the Girls 15-19 division at the Golf Club of Dublin.
Pankow fired rounds of 77-72—149 to beat Jocelyn Bruch by two shots after Bruch took a commanding lead into Sunday.
Bruch opened with a tournament-low 70 on Saturday and after her birdie at the 10th Sunday still led Pankow by seven strokes and Amelia Lee by six. Bruch then suffered disaster with a quintuple bogey at the 11th then bogeys at 12 and 13. Meanwhile, Pankow had found her groove and would play the final 14 holes in bogey-free 1-under-par.
Bruch would finish alone in second at 70-81—151 while Lee took third with rounds of 75-78—153.
Maddie Frank fired rounds of 77-77—154 to finish alone in fourth place while Maria Howard rounded out the top five at 80-76—156.
Ranieri rallies in Boys 16-19
Joey Ranieri fired a closing-round 3-under-par 69 to come back from six shots behind to win the Boys 16-19 division at the Golf Club of Dublin.
Ranieri finished at 73-69—142 and was among a large group of players trailing Trevor Binau who blistered the course with an opening-round 67.
Binau carded bogeys on three of his first four holes Sunday and Ranieri would go to work after an early bogey himself. Ranieri went on a run of four birdies through five holes starting at the fifth then added another at the 13th to pull even with Binau.
Binau made bogeys on the three finishing holes to render Ranieri's bogey at the last benign.
Binau finished with rounds of 67-77—144 to finish in a tie for second place with Kyle Mitchell (70-74—144) and Curran Gimeson (72-72—144).
Rounding out the top five was a trio of players sharing that position: Holden Scribner (74-74—148), Jonathan Filler (75-73—148) and William McDavid (76-72—148).
McCullough takes Boys 14-15 title
Billy McCullough shot 75-73—148 in earning a 2-shot victory in the Boys 14-15 division at the Golf Club of Dublin.
McCullough trailed opening-round leader Kody Reynolds by two shots entering Sunday's round and he started with eight straight pars to maintain his position. McCullough finally caught Reynolds with a birdie at the 10th then took command with his birdie at 16.
Reynolds faded back with a quadruple bogey at 16 and finished alone in fourth with rounds of 73-79—152.
Topher Reed fired rounds of 74-76—150 to finish alone in second while Aidan Schumer placed third at 74-77—151.
Schulman earns narrow victory in Girls 14-and-Under
Lexi Schulman's par at the final hole helped lift her to a 1-shot victory over Kary Hollenbaugh in the Girls 14-and-Under division at the Golf Club of Dublin.
Schulman finished with rounds of 73-77—150 and had to overcome a double bogey at the sixth hole Sunday. That double bogey enabled Hollenbaugh to grab the lead after her furious start of three birdies on the first four holes.
Schulman's birdie at the 16th brought her even with Hollenbaugh heading to the last hole, where Schulman's par held up against Hollenbaugh's bogey.
Hollenbaugh placed second with rounds of 76-75—151 while Anna Ritter took third place at 77-78—155.
Armbruster all red in Boys 13-and-Under win
Ben Armbruster fired consecutive rounds under par in winning the Boys 13-and-under division by four shots at the Golf Club of Dublin.
Armbruster shot 71-70—141 and never trailed following a run of three birdies in five holes through No. 15 on Saturday. He followed Saturday's performance with one even better on Sunday by playing an even-par front nine followed by birdies at 10, 12 and 17 coming home.
Joe Wilson IV issued a formidable challenge and finished alone in second with rounds of 71-74—145 while Bradley Chill finished third at 72-81—153.