Photo Gallery
UM Oct. 15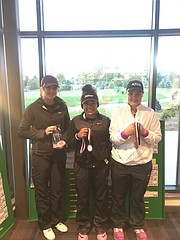 ANN ARBOR, Mich. – Erik Fahlen survived a rough final nine in holding on to win the boys overall division and the boys 14-15 division at the University of Michigan Golf Course.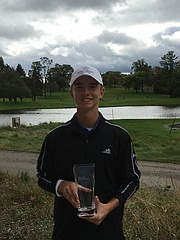 Fahlen fired rounds of 69-76—145 and carried a 4-shot lead into the final round in holding off Alek Mauro by one shot. He carded four birdies in the first round for the low round of the tournament and played the first 11 holes of the final round in 1-over-par to keep the field at bay. Bogeys at 12, 13, 15 and 16 gave hope to the field, but only Mauro was able to make a significant challenge.
Mauro made all pars from 9 through 15 before a bogey at 16 and a furious finish with birdies at the last two holes.
Mauro finished alone in second place with rounds of 74-72—146 while Shawn Sehra shot 76-72—148 to claim third place.
August Meekhof (76-73—149) and Peter Blazevic (73-76—149) rounded out the top five of the boys 14-15 division.
Barth holds on in Boys 16-19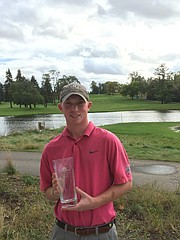 Trent Barth surged into a big lead during Sunday's front nine then was able to hang on for a 4-shot win in the Boys 16-19 division at UM.
Barth, who began the final round two shots off the lead, moved ahead with birdies at 3,4 and 7 while the rest of the field was giving shots back. The back nine claimed many victims so none were able to make a charge at Barth, who made bogey on four of the last seven holes.
Barth finished with rounds of 76-73—149 while Dean Austalosh (75-78—153), Nick Krueger (76-77—153) and Jimmy Dales (80-73—153) all tied for second place.
Will Anderson rounded out the top five with rounds of 75-79—154.
Barclay rolls in Girls 15-19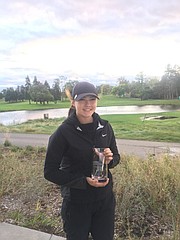 Haley Barclay fired rounds of 84-81—165 in posting a 9-shot victory in the Girls 15-19 division at UM.
Barclay carried a 3-shot lead over Logan Hackett into the final round and held a 5-shot lead with four holes to play. At that point, Barclay posted three straight pars to push that lead to nine.
Hackett finished alone in second place with rounds of 87-87—174 while Grace Mitchell took third at 88-93—181.
Hu earns 6-shot win in Girls 14-and-Under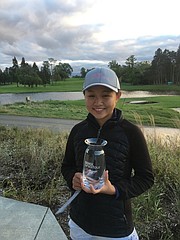 Rachel Hu surged to a huge lead with a solid opening round and was able to hold on for a 6-shot win over Bridget Boczar in the Girls 14-and-Under division at UM.
Hu posted birdies at 5 and 17 en route to shooting 77 and building an 11-shot margin. Despite a birdie-free final round she was still able to expand her lead and finished at 77-96—173.
Boczar finished alone in second at 88-91—179 while Samantha Coleman placed third with rounds of 93-87—180.
LeMonds captures Boys 13-and-Under division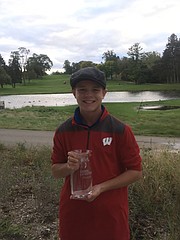 Hayden LeMonds fired rounds of 76-84—160 to win the Boys 13-and-Under division at UM by nine strokes.
LeMonds posted 13 pars against five bogeys in his opening round that was the lowest of the tournament and give him a 8-shot cushion. With an early birdie in the final round, LeMonds served notice that no one would be able to make a realistic run at the lead.
Ben McDaniel shot 89-80—169 to finish in a tie for second place with Joe Sawyer, who posted rounds of 84-85—169.