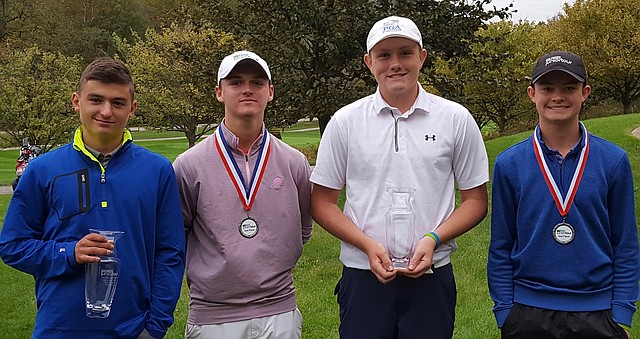 INDIANAPOLIS – Kash Bellar's birdie on the first playoff hole against Griffin Hare lifted him to victory in the Boys overall division at the The Fort Golf Course.
Photo Gallery
The Fort 10/15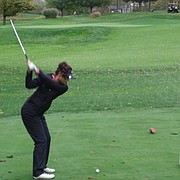 Bellar and Hare, both playing out of the Boys 14-15 division, battled through difficult wind and rain for Sunday's final round to finish tied at 2-over-par for the event. Bellar put together rounds of 74-72—146 while Hare shot 70-76—146.
In the final round, Bellar made crucial birdies at 14 and 16 while Hare rebounded from bogeys at 10 and 11 with all pars the rest of the way to set up the playoff.
In the Boys 14-15 standings, Billy McCullough shot 74-77—151 to finish alone in second place while Andrew White (75-77—152 and Michael Smith (73-79—152) shared fourth place.
Kostouros earns victory in Boys 16-19
Yianni Kostouros pulled out a 2-shot victory in the Boys 16-19 division at The Fort Golf Course.
Kostouros put together rounds of 76-73—149 and held off a late charge from Andrew Harvey. He helped seal the deal with consecutive birdies at 6, 7 and 8 before a solid string of seven straight pars on the closing nine.
Harvey, who fell back with double bogeys at 11 and 13, finished strong by playing the final five holes in bogey-free 2-under-par and settled for second place at 76-75—151.
Stephen Kocerha shot 74-80—154 for sole possession of second place while Jacob Deakyne took fourth at 75-80—155.
Rounding out the top five was a quartet of players at 156: Seth Bohl (77-79), Shoji Fujita (78-78), Ethan Lee (78-78) and Drew Pickering (78-78).
Pfefferkorn tops Young in playoff
Angelica Pfefferkorn and Lucy Young engaged in a 2-player duel in the Girls 16-19 division at The Fort, with Pfefferkorn needing to survive a playoff in order to take home the victory.
Pfefferkorn shot 83-80—163 in regulation, erasing a 5-shot deficit at one point in the final round. With 12 holes to play, she made up two shots over the next three holes and her par at the 13th brought the match even. Both players then matched identical scores on each hole the rest of the way to set up the playoff.