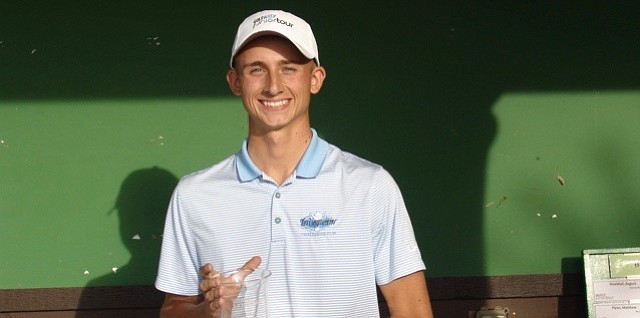 NOBLESVILLE, Ind. – Lucas Beck took charge of the event during the opening round's back nine and held on for a wire-to-wire victory in the Boys 16-19 division at Purgatory Golf Club.
One-over-par through 13 holes in Saturday's opening round, Beck went on to birdie four of the last five holes in surging to a lead that he would not relinquish. It led to scores of 69-73—142 and a 3-shot victory over Cole Harris.
In the final round, Beck again saved his best for the back nine as he birded holes 11, 12 and 15 following a 2-over-par front nine.
When Harris birdied the 10th Sunday he moved in front by a shot, but bogeys on the next two holes combined with Beck's birdies there made the lead short-lived.
Harris finished at 71-74—145 to claim sole possession of second place while Jay Williams (72-77—149), Carson Postal (74-75—149), Blake Wheeler (74-75—149), Zack Hopkins (75-74—149) and Peyton Snoeberger (81-68—149) all shared third-place honors.
Meekhof grinds out victory in Boys 14-15
August Meekhof fired rounds of 71-76—147 to earn a 2-shot victory over Matthew Flynn in the Boys 14-15 division at Purgatory.
Meekhof carried a 3-shot lead into the final round and built as much as a 6-shot lead with seven holes to play, before Flynn applied some pressure. Meekhof made bogey at the 12th and a double bogey at 16. Combined with Flynn's birdies at 15 and 17, Meekhof's lead had been trimmed to one with just one hole to play.
At the 18th, Meekhof sealed the victory with a par while Flynn took bogey.
Flynn finished at 74-75—149 for sole possession of second place while Drew Wrightson and Nic Hofman each shot identical rounds of 78-77—155 to tie for third place.
Raines dominates in Girls 15-19
Leila Raines throttled the field with rounds of 82-75—157 to earn a 16-shot victory in the Girls 15-19 division at Purgatory.
Raines, a Michigan State University commit, was a bit sluggish in her opening round but turned things around on Sunday with four birdies on the card.
Kiersten Van Norden placed second after firing rounds of 87-86—173.
Late birdie lifts Cesare in Boys 13-and-Under
Alec Cesare birdied the second-to-last hole in lifting him to a 1-shot victory over Peyton Blackard in the Boys 13-and-under division at Purgatory.
Cesare fired rounds of 80-76—156 and overcame a 2-shot deficit with just three holes to play. At the 16th, he made up two shots with a par then went ahead with his birdie on the par-3 17th. Pars at the last hole by both Blackard and Cesare assure Cesare of the victory.
Blackard finished at 79-78—157 for sole possession of second place while Joe Sawyer came in third with rounds of 84-79—163.