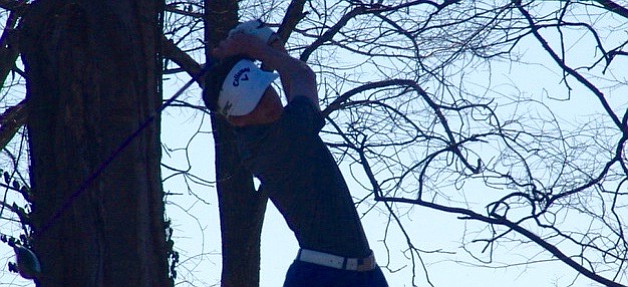 NASHVILLE, Tenn. – Nels Surtani birdied the second playoff hole to defeat Zack Hopkins in the Boys 16-19 division at Hermitage Golf Course.
Surtani birdied two of the last four holes in regulation to set up the playoff with Hopkins, who rallied from three shots back in the final round. Surtani finished with rounds of 73-70—143 including six birdies the last day.
Surtani trailed first-round leaders Gavin Clements and C.M. Mixon by two shots entering the final round then went on a run of four birdies through seven holes of his outgoing nine. While Mixon faded with four bogeys on holes 5-9, Clements seemed poised to run away with the title by playing a bogey-free 3-under-par front nine.
Clement's triple bogey on his 11th hole placed him back among the leaders then back-to-back bogeys on his 15th and 16th holes kept him one shot out of the playoff.
Hopkins, who entered the event in need of a third-place finish or better to lock up Player of the Fall honors, started the final round five shots off the lead then posted the round of the day with six birdies against just one bogey.
Hopkins shot 76-67—143 in regulation while Clements finished at 71-73—144 to finish in a tie for third with Jackson Lalond (74-70—144).
Mixon claimed sole possession of fifth place with rounds of 71-76—147.
Lim holds on for Girls 15-19 title
Lynn Lim birdied two of the last four holes in earning a wire-to-wire victory in the Girls 15-19 division at Hermitage.
Lynn finished with rounds of 73-71—144 in pulling out a 2-shot win over Annabelle Pancake.
After playing the first 10 holes in 2-under-par Sunday, Lim was rolling to what seemed an easy victory, but a double bogey at 11 and a bogey at 13 brought a measure of hope to Pancake and the rest of the field.
Pancake, just one shot back to start the final round, played the first 13 holes Sunday in even par to draw square with Lim at that point. Lim responded with birdies at 15 and 18 while Pancake played level par the rest of the way.
Pancake finished with rounds of 74-72—146 to take sole possession of second place while Sophie Linder came in third at 76-72—148.
Compton breaks through with first GJT win
Reece Compton fired rounds of 79-74—153 to rally for his first GJT win in the Boys 14-15 division at Hermitage.
Compton started the final round four shots behind Ben Burgan then played a steady even-par front nine to move ahead. Compton's birdie at the ninth gave him the lead after Burgan experienced trouble early in his round that included a disastrous 9 on the par-4 fourth.
Burgan would settle down with 12 straight pars and finished alone in second place with rounds of 75-82—157. Edward Shen shot 79-79—158 to finish in a tie for third with Andrew Marrs (78-80—158).
Russell cruises in Girls 14-and-Under
Bree Russell shot 86-86—172 in rolling to a 10-shot victory in the Girls 14-and-under division at Hermitage.
After four straight pars to close out her front nine, Russell had expanded her five-shot lead to eight, but back-to-back triple bogeys narrowed her lead over Kirsty Mitchell to just four through 13 holes. A par at 14 followed by a birdie at 15 stretched the lead back to seven and ended all doubt.
The victory was Russell's first on the GJT.
Mitchell finished second with rounds of 91-91—182.
Crowder dominates Boys 13-and-Under field
Maddox Crowder earned his first GJT victory by winning the Boys 13-and-under division at Hermitage by 16 shots.
Crowder finished with rounds of 77-71—148 and parlayed a flawless opening nine Sunday into a rout of the field. Crowder, leading Mitchell Strickland by six shots, played his opening nine holes in bogey-free 3-under-par to stretch the lead to 16 where it would stay.
Strickland finished second with rounds of 83-81—164.