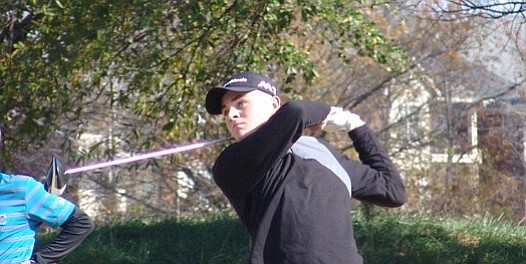 NASHVILLE, Tenn. – Austin Greaser maintained his hot play on the GJT by winning for the second time in his last three events in the Boys 16-19 division at the Vanderbilt Legends Club.
Greaser put together rounds of 67-73—140 to hold off Kyle Schmidt by one shot despite making bogey on three of the final four holes.
Greaser, who in his last three events has compiled two wins and a tie for third place, carded five birdies in the opening round to build a 3-shot lead over A. Jacks Green and four over Schmidt and Felix van Kleef. With van Kleef struggling Sunday, Greaser stretched his lead to a comfortable five shots with just four holes to play.
Schmidt closed strong, playing the final 10 holes in bogey-free 2-under-par to finish alone in second place at 71-70—141 while Alex Cobb (74-69—143) at Josh Holtschlag (73-70—143) shard third place.
Green placed alone in fifth with rounds of 70-75—145.
Jang captures Girls 15-19 title
Shelly Jang fired rounds of 74-76—150 to earn a 3-shot win over Sarah Frazier and Lynn Lim in the Girls 15-19 division at Vanderbilt Legends Club.
Jang and Lim shared the first-round lead, but it was only Jang who managed to put any birdies on her card the final round. She followed up two early bogeys with birdies on her third and fourth holes played Sunday then parlayed 10 straight pars at one point to solidify her lead.
Frazier, who opened with a 78, played her first 10 holes Sunday in bogey-free 1-under-par to move into contention and she finished at 78-75—153 to share second place with Lim (74-79—153).
Morgan Pankow shot 78-77—155 for sole possession of fourth place while Megan Tang rounded out the top five with rounds of 79-78—157.
Wrightson runs away from Boys 14-15 field
Drew Wrightson fired a pair of 74s in cruising to an 8-shot victory in the Boys 14-15 division at Vanderbilt Legends Club.
Wrightson carried a 2-shot lead over Braden Hoisington into the final round then erased an early double bogey with three birdies on his card Sunday. His final round of 74 was four shots better than the next-best player that day and he would not be challenged.
Ethan Ray finished with rounds of 77-79—156 for sole possession of second place while Adam Lauer (79-79—158) and Erik Fahlen (77-81—159) shared third place ahead of Griffin Hare at 81-78—159.
Pfefferkorn rolls in Girls 14-and-Under division
Christina Pfefferkorn put together rounds of 88-92—180 in taking care of a 3-player field in the Girls 14-and-under division at Vanderbilt Legends Club.
The highlight of the week came in Saturday's opening round with Pfefferkorn's birdie at the par-5 17th. That helped her to a 6-shot lead that would never be challenged in Sunday's final round.
Karagan Myers shot 94-98—192 to finish in a tie for second with Emily Wilson at 103-89—192.