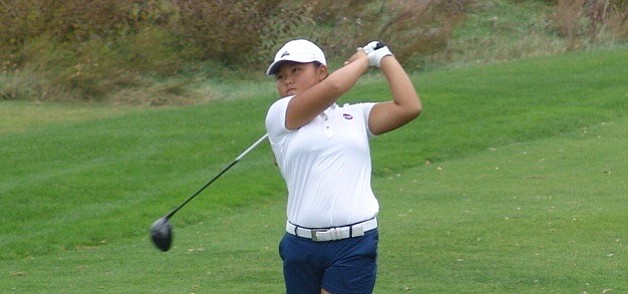 LEXINGTON, Ky. – Lynn Lim fired rounds of 70-73—143 to beat the largest girls field of the season at Hearney Hill Golf Links.
Lim carried a 2-shot lead into the final round and played the first 15 holes in 1-under-par to hold off all challengers. After a bogey at No.6 brought Sophie Linder and Sophia Trombetta within one stroke of the lead, Lim responded with a birdie at 8 and again at 12 and no one would come within two shots the rest of the way.
Danae Rugola made a solid charge the last day after opening with a 74. She carded three birdies against just one bogey over the first 14 holes Sunday before coming up two shots short of the lead and finishing alone in second at 74-71—145.
Linder (72-76—148) and Trombetta (72-76—148) tied for third place while Marissa Wenzler (75-76—151) and Haley Barclay (73-78—151) rounded out the top-5 in the 37-player field.
Hanni wins by two in Girls 14-and-Under
Kate Hanni played holes 3 through 11 in even par during the final round in securing a 2-shot victory in the Girls 14-and-under division at Kearney Hill.
Hanni trailed Anna Ritter and Kary Hollenbaugh by one stroke after the first round then started the final round with bogeys on the first two holes. She responded with seven pars, one bogey and a birdie over the next nine holes to take command and held on for a 2-shot victory.
Hanni finished with rounds of 80-79—159 while Ritter and Hollenbaugh both finished in a tie for second with identical scoes of 79-82—161.
Savannah Howell (82-83—165) and Kirsty Mitchell (86-84—170) rounded out the top five.
Greaser wins tough battle at Big Blue
Austin Greaser's birdie at No. 16 during Sunday's final round proved the difference in his 1-shot victory in the Boys 16-19 division at the University of Kentucky's Big Blue Course.
Greaser fired rounds of 69-71—140 and was locked in a battle with Maxwell Moldovan and Andrew Lewis the whole way. With Moldovan holding a 1-shot lead after the first round, Greaser passed him with birdies at 5 and 6, then later added birdies at 9 and 10 to go up by three shots. Bogeys at 12 and 15 brought him back to Moldovan, who birdied 10 and 13, and Lewis, who birdied three holes in a 5-hole stretch through 15.
Tied with Moldovan and one ahead of Lewis, Greaser finished birdie-par-par to nail down the victory as both Moldovan and Lewis could muster pars the rest of the way.
Moldovan finished alone in second with rounds of 68-73—141 while Lewis took third at 71-71—142.
Rounding out the top five was a trio of players tied for fourth: Dylan Stevens (75-70—145), Mason Wagner (73-72—145) and Dhaivat Pandya (71-74—145).
Bellar wins Boys 14-15 by 3 shots
Kash Bellar fired rounds of 69-75—144 in cruising to a 3-shot win over a trio of players in the Boys 14-15 division at the UK Club.
Bellar entered the final round tied with Billy McCullough and one shot ahead of Jack Thomas and Joshua Qian and he struggled with a double bogey and bogey on his 7th and 9th holes. That stretch put him behind Thomas heading to the closing nine, where most players in the field had trouble.
Finishing on holes 1-9, Bellar managed the closing holes better than anyone in the field, posting three birdies in a 1-under-par 35. Griffin Hare was the only other player to break par on that side as he surged to a tie for second place at 75-72—147. Hare was joined in second by Erik Fahlen (74-73—147) and Allan Lockwood (71-76—147).
Rounding out the top five were Thomas at 70-78—148 and Drew Wrightson at 73-75—148.
Hamrick laps field in Boys 13-and-Under
Mason Hamrick shot 70-73—143 in rolling to a 9-shot win in the Boys 13-and-under division at Kearney Hill.
Hamrick opened up a 6-shot lead on the first day thanks to brides at 7 and 8 then later with birdies at 16 and 17. Nursing a big lead for the final round, Hamrick would not let up, playing the first 14 holes in 1-under-par thanks to birdies at 6, 11 and 14.
Charlie Dahlem posted rounds of 77-77—154 to claim sole possession of second place while Brett Podobinski took third with rounds of 79-78—157.