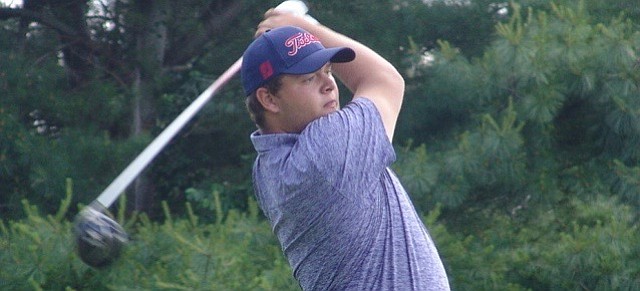 Photo Gallery
2017 GJT Championship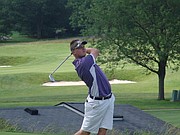 LEXINGTON, Ky. – Entering this past Memorial Day weekend's Golfweek Junior Tour Championship, Baili Park was a player who hoped to play well and perhaps earn a trophy of sorts. She left the event as a player fully confident in herself to find not only her 'A' game, but also a comfort level reserved for seasoned veterans.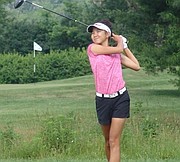 Park breezed to a 5-shot win in the Girls 15-19 division at the University of Kentucky Golf Course, posting rounds of 71-70-75—216 against a strong field of 40 players from the Midwestern states, Kentucky and Tennessee.
Following two opening rounds under par, Park carried a 6-shot advantage over Annabelle Pancake into the final round. Those six shots made all the difference in the world to Park.
"I definitely was less nervous with that lead," said Park, a rising high school senior in Germantown, Tenn. "If I was only three shots up, I would probably have freaked out. But I was comfortable with that lead."
Park's comfort level led to a weekend accurate driving and very little drama. The only moment of consternation came in Sunday's second round when Park thought she had mis-hit her approach to the par-5 16th.
"I had 170 yards in with the wind coming at me," said Park, who was coming off a bogey at 15. "I hit a 4-hybrid off the heel and felt like it would be short, going into the water, but I almost holed it."
But this was Park's week and that shot off the heel made its way to the green, close enough for her to sink the ensuing birdie putt and separate herself from the field.
In Monday's final round, Pancake put the pressure on Park early by registering birdies at Nos. 3 and 5 to close the gap to two shots. Park responded with a birdie at the seventh while Pancake dropped three shots with a double bogey there.
"Annabelle was shooting really well and she missed a couple of putts I thought she would make," Park said. "I'm not going to say I was happy about it because I love Annabelle and she's such a great player, but there were times I thought I would mess up.
"All my drives were kind of fading," Park said. "But I was hitting a lot of fairways and could confidently hit my irons. My 9-iron was really good – I know hit a couple to within five feet with that club."
After Park's birdie at the 12th, her lead bulged to seven shots and breathing would be easy the rest of the way. The result may have even surprised Park a little.
"Coming here, I wasn't expecting to finish first, but hoping to get a trophy this week. I feel like I haven't won in a while so this has boosted my confidence."
Pancake held on to second place, scoring an eagle at the par-5 13th in the final round to finish at 69-78-74—221. Western Kentucky-commit Lizzie Loy shot 72-77-75—224 to claim sole possession of third place while Bailey Hubbard shot 77-76-72—225 for fourth.
University of Illinois-bound Katie Hallninan rounded out the top-five with rounds of 77-75-74—226.
Willis claims two titles in one
Garrett Willis' remarkable 6-under-par 66 in the final round brought home not only a victory in the Golfweek Junior Tour Championship at the University of Kentucky Golf Course, but also earned him the GJT Player of the Year honor.
Needing to tie for second in this weekend's tour finale in order to earn enough points for Player of the Year, Willis turned in a round for the ages when he needed it most. Entering Monday's final round tied for second and one shot behind Austin Greaster, Willis thrashed the field from the beginning, registering birdies at Nos. 2 and 6 before a resounding eagle at the par-5 seventh. That eagle gave Willis a 3-shot advantage and he would add to it with a birdie at the ninth and 11th holes.
Willis played mistake-free when it mattered, eventually going on to birdie No. 16 to take his bogey-free round at that point to 7-under-par. His only blemish on the day would be a harmless bogey at the 17th.
Willis finished the tournament at 70-72-66—208, six shots in front of Brendan O'Rourke, who was the only other player in the field to finish under par at 71-75-68—214.
Greaser finished at 72-69-75—216, winding up in a three-way tie for third place with Alex Flick (72-72-72—216) and Frankie Morgan (71-71-74—216).
Rounding out the top-10 in the 60-player field were first-round leader Evan Davis (69-74-74—217) who tied for sixth with Jay Kirchdorfer (73-72-72—217) and a trio of players tied for eighth: Michael Prebles (78-72-72—222), Cooper Jones (72-75-75—222) and Nolan Schrand (72-71-79—222).
Preston cruises to Boys 14-15 title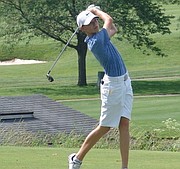 Jansen Preston was the only player in the field to never fire a round over par and enjoyed a 7-shot victory in the Boys 14-15 division of the Goflweek Junior Tour Championship at the UK Club.
Preston shot 68-72-72—212 in earning his first GJT victory in three appearances. He took control of the tournament from the outset, beginning Saturday's opening round with birdies on three of his first five holes the concluded by making birdie at the last two. That put him in a tie with Joey Wiseman, who made five birdies and a bogey for the round.
With storms wreaking havoc the opening round, most players were forced to finish the opening round Sunday then head straight back out for the second round. Preston took advantage of his momentum and pushed the lead to five shots heading into Monday's final round.
In the Memorial Day finish, Preston left little hope for the field, playing the first 16 holes in bogey-free 3-under-par.
Wiseman finished at 68-77-74-219 to finish among a quartet tied for second place. That group included Zachary Bailey (75-73-71—219), Oscar Zimmerman (77-70-72—219) and Stephen Warren (72-75-72—219).
Finishing tied for sixth were Peyton Houston (76-72-73—221), Alex Hadden (71-75-75—221) and Kyle Schmidt (73-72-76—221).
Hensley pulls away for Girls 14-and-Under victory
Olivia Hensley captured her first GJT win in five appearances by winning a final-round duel with Madison Dabagia in the Girls 14-and-under division at the UK Club.
After the first two rounds, Hensley trailed Dabagia by two strokes while the remainder of the field stood six shots back. With five straight pars to start the final round, Hensley drew even with Dabagia then took the outright lead three holes later following a bogey by Dabagia.
After Dabagia regained the lead with a birdie at their 12th, Hensley played the final six holes in even-par to Dabagia's 6-over-par, sealing Hensley's victory.
Hensley finished with rounds of 76-78-77—231 while Dabagia finished alone in second at 73-79-84—236.
Katelyn Kuc shot 79-79-85—243 to round out the top three.
Bellar claims playoff victory in Boys 13-and-Under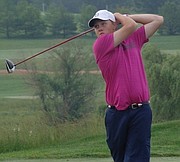 After a late collapse in regulation nearly cost him the victory, Kash Bellar rose back up to make a birdie on the second playoff hole to defeat Drew Wrightson in the Boys 13-and-under division at the GJT Championship.
Bellar and Wrightson played neck-and-neck all weekend, posting identical opening rounds of 69-69 as a bunched-up leaderboard of red numbers developed. Entering Monday's final round, Each player in the final foursome was no more than four shots off the lead to start the round.
A string of three birdies in four holes on the closing nine put Bellar four strokes ahead with just three holes remaining, but a bogey on the 16th hole and a double-bogey on the 17th gave Wrightson an opportunity of which he took advantage with a birdie at the 17th.
Following the disappointing finish, Bellar managed to get things back together in winning on the second hole with his 14th birdie of the tournament.
Bellar and Wrightson both finished in regulation with identical rounds of 69-69-73—211 while Jay Nimmo's late charge came up just short of the playoff, leaving him in third place with rounds of 70-72-70—212. Nimmo played the closing nine holes in bogey-free 4-under-par to make his run at the playoff, but came up short with a par at the last hole.
Joe Wilson IV also made a magnificent surge the final round, playing the closing nine in bogey-free 4-under-par, including an eagle at the par-5 No. 5. Wilson finished alone in fourth place with rounds of 71-74-68—213.
First-round leader Cayden Pope claimed fifth place with rounds of 68-73-73—214.