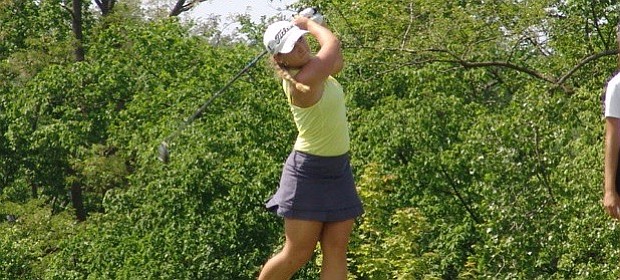 SPRINGBORO, Ohio – Hadley Walts birdied four of the final six holes, including the decisive one at the last in garnering a 1-shot victory in the Girls 15-19 Division at Heatherwoode Golf Club.
Walts, a University of Tennessee commit, fought a tight battle with Clemson-bound Alexandra Swayne in the final round. Both players along with Veronica Haque shared the first-round lead with a 71 and the lead went back and forth Sunday.
After Haque struggled early, Walts and Swayne engaged in a duel to the end. Swayne birdied the 11th hole to go up by three shots then Walts made her glorious charge to the finish. Walts made birdie at their 13th hole then drew event at the next when Swayne made bogey. Walts went on to register birdies on the 15th, 16th and 18th holes, surviving a bogey at the 17th that had put the two players even again.
Walts finished at 71-71—142 for her third GJT win in the older division while Swayne placed alone in second at 71-72—143.
Penn State commit Sarah Willis shot 73-74—147 to finish alone in third place while Indiana University-bound Alexis Miestowski took fourth with rounds of 74-74—148.
Annabelle Pancake shot 78-73—151 to share fifth place with Kristin Jamieson (76-75—151).
DeBonis earns first GJT win
Ty DeBonis fired rounds of 72-73—145 to claim his first GJT win in in the Boys 16-19 division at Heatherwoode.
DeBonis shared the first round lead with Jack Hanus and the two battled closely together the final round before DeBonis closed with a birdie on the final hole while Hanus carded a double bogey.
Jack Kozlowski, who started the final round four shots back, made a strong move in the final round, posting four birdies and maneuvering his way to a second place finish at 76-71—147.
Hanus finished at 72-77—149 and tied for third with Caleb Westfall, who shot 75-74—149.
Nick DiCello shot 73-77—150 and tied for fifth place with Curran Gimeson (74-76—150).
Wells' steady final round earns win in Boys 14-15
Luke Wells carded 16 pars in the final round to pull out a 1-shot victory in the Boys 14-15 division at Heatherwoode.
Wells finished with rounds of 77-71—148 and overcame a 7-shot deficit to earn the win. He birdied the fourth hole Sunday then finished with all pars with the exception of a lone bogey on his 13th hole.
First-round leader Jack Wertz shot 70-79—149 to fall back into a tie for second place with Kyle Schmidt, who birdied the last hole for rounds of 73-76—149.
Henry Perry claimed sole possession of fourth with rounds of 78-72—150 while Nathan Osborn rounded out the top five at 77-76—153.
Spiess nails down ninth win of season
Madison Spiess extended her large lead in the Player of the Year race with a 5-shot win in the Girls 14-and-under division at Heatherwoode.
The victory was Spiess' ninth of the 2016-17 season and 12th overall on the GJT.
Spiess took control of the tournament with a steady first-round 69 that included three birdies and just one bogey. She followed that up with a more adventurous second round that started with bogeys on four of her first six holes, but ended up with an eagle at the last.
Spiess finished with rounds of 69-76—145 while Savannah Haque shot 76-74—150 to claim sole possession of second place.
Ashley Au shot 75-78—153 to take third place while Kiah Parrott (78-80—158) and Rachel Hu (81-84—165) rounded out the top five.
Wilson earns second victory in Boys 13-and-Under
Joe Wilson IV fired rounds of 69-74—143 to pull out a 3-shot victory in the Boys 13-and-under division at Heatherwoode.
The win was Wilson's second this season and second overall in 30 GJT appearances dating back to August of 2013.
In his opening round, Wilson posted three birdies against just one bogey built a 3-shot lead over Jay Nimmo. After playing the first 12 holes in 3-over-par, Wilson fell one shot behind Nimmo, who had posted three birdies up to that point. At the 13th hole, Wilson's birdied engineered a 2-shot swing in his favor.
All square with just two holes to play, Wilson grabbed the lead at the 17th when Nimmo made double bogey then he nailed it down with a birdie at the last.
Mason Witt, who started the final round four shots back, made a run at the lead with a 2-under-par outward nine and at one point pulled even with Wilson, only to fall back with a double bogey and two bogeys in the middle of his closing nine.
Witt finished at 73-73—146 to tie for second with Nimmo, who shot 72-74—146.
Drew Wrightson had the best final round and surged to a fourth-place finish at 77-70—147 while Ben Armbruster rounded out the top-5 with rounds of 76-74—150.