COLUMBUS, Ohio – Tejas Sinha made par on the second playoff hole to defeat Jackson Chandler for the boys overall title at Darby Creek Golf Club.
Sinha, who nailed down his first GJT win in nine appearances with a 3-shot win in the Boys 16-19 division, shot 70-72—142 in regulation and tied Jackson who was playing out of the Boys 14-15 division.
Photo Gallery
Darby Creek 4/30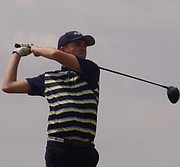 Both players made par on the first hole before Sinha preserved the victory on the next hole.
In regulation, Sinha battled through tough weather conditions that plagued the event all weekend. He made birdies at Nos. 3, 7 and 12, closing with a bogey-free back nine of 1-under-par 35.
Will Sattler and Charlie Toman both provided close chase of Sinhas during regulation, but both made bogey on the final hole to doom any chances of reaching the playoff. Both Sattler and Toman shot 72-73—145 to share second place in the Boys 16-19 division, while Blake Solomon shot 72-74—146 to finish alone in fourth place.
Avery Green posted rounds of 76-73—149 to round out the top five.
Ly's hot start propels her to win in Girls 15-19
Jasmine Ly got off to a torrid start in Saturday's first round and she never looked back en route to a 4-shot win in the Girls 15-19 division at Darby Creek.
After a bogey on her first hole of Saturday's opening round, Ly reeled off four birdies over the next seven holes to move her to the top of the leaderboard. Despite closing with bogeys on the final two holes, Ly still took a 3-shot lead into Sunday's final round, in which she relied on steady play to stay in front.
Ly kept herself distanced from the field with 10 pars through the first 11 holes then made birdies at 12 and 17 to provide a comfortable margin. She finished with rounds of 72-73—145, never losing any ground to runner-up Marissa Wenzler who shot 76-73—149 for sole possession of second place.
Mikaela Schulz (79-75—154) and Leila Raines (78-76—154) shared third-place honors while Joceyn Bruch (79-78—157) and Olivia Zambruno (75-82—157) tied for fifth place.
Chandler brings home Boys 14-15 title
Before falling the Tejas Sinha in the playoff for the boys overall title, Jackson Chandler earned his first GJT win since May of 2016.
Chandler posted rounds of 69-73—142 to hold off Max Watston by three shots. He carried a 4-shot lead into the final round bolstered by an eagle at the par-5 sixth. He then started the final round with a birdie and later closed with birdies on two of the final four holes to lock up the victory.
Watson, who played the final 10 holes in bogey-free 1-under-par, made a strong chase at Chandler but had to settle for second place with rounds of 73-72—145.
Cameron Casto shot 76-76—152 for sole possession of third place while Tyler Jones finished fourth at 73-80—153.
Hummer survives in Girls 14-and-Under
In a weather-shortened event, Emily Hummer shot 4-over-par through 27 holes to beat Chloe Johnson by three strokes in the Girls 14-and-under division.
Over two days, Hummer posted an impressive 1-under-par 71 for the first round lead. The round included a birdie on the first hole and a bogey-free 2-under-par closing nine the next day.
After a rocky start to the final round, Hummer settled down with a crucial birdie on the penultimate hole and kept Johnson at bay. Johnson, who shot 74 for the first round, posted an early double bogey and was never able to make the necessary charge down the stretch.
Johnson finished second at 7-over-par while Kiah Parrott took third at 8-over-par.
Witt survives Wrightson's late charge to win Boys 13-and-Under
Mason Witt shot 3-under-par over 27 holes in the weather-shortened event at Darby Creek, winning the Boys 13-and-under division by one shot over Drew Wrightson.
Witt bagged five birdies in his opening round played over two days and finished with a 3-under-par 69 and vaulting him to a 2-shot lead. Witt held on with an even-par final nine holes as Wrightson made a huge charge at the end. With three holes left, Wrightson trailed by three shots and proceeded to birdie each of the final three holes. Witt's birdie at the seventh proved to be the difference.
Jordan Gilkison birdied two of his last three holes to finish alone in third place at 1-under-par while Joe Wilson IV took fourth at 1-over-par.