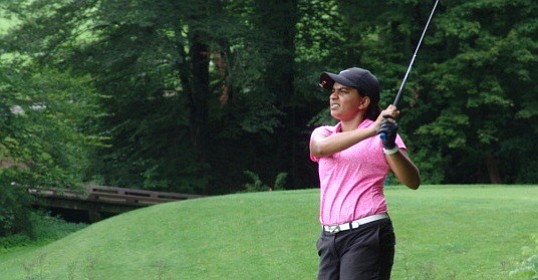 NASHPORT, Ohio – Priyasha Kota fired a final-round 73 in coming from behind to capture her first GJT win in the Girls 15-19 division at The Virtues.
Kota trailed Lucy Young by three shots entering the final round then posted birdies at 1, 6 and 10 to storm into the lead. Six straight pars kept the field at bay and helped her to win comfortably despite bogeys on the final two holes.
Kota finished with rounds of 83-73—156 and was followed by Alyssa Newsom, who earned sole possession of second place at 85-76—161. Young, finished alone in third with rounds of 80-85—165.
Dyson wins by six in Boys 16-19
Austin Dyson produced 11 birdies over two rounds in rolling to a 6-shot victory in the Boys 16-19 division at The Virtues.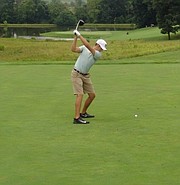 Dyson finished with rounds of 71-70—141 and stretched a 4-shot lead to a 6-shot win by virtue of six birdies in the last round. He took control of the event with strong run on the closing nine of the first round. After playing the opening nine in 2-over-par, Dyson posted birdies at 10, 11, 13 and 15 to take the lead and never looked back.
Dyson played the first seven holes of the final round in bogey-free 3-under-par to create an easy-going closing nine.
Jake Hoheisel shot 77-70—147 to take second place while Frank Jones took third place with rounds of 75-74—149.
Cole Corder (75-75—150) and Anthony Ricaurte (78-74—152) rounded out the top five.
Salyers dominates Boys 14-15 field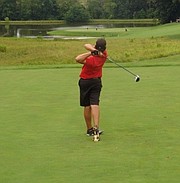 Drew Salyers fired rounds of 74-75—149 and dismantled the field of Boys 14-15 players at The Virtues.
Salyers birdied the 16th and 18th holes of Saturday's opening round in building a 6-shot cushion then left no doubt with his 14-par round Sunday. That left him with an incredible 14-shot margin of victory.
Bennett Zeitner shot 80-83—163 to finish second while Jaydan Morgan came in third at 84-80—164.
Hollenbaugh wins Girls 14-and-Under duel
Kary Hollenbaugh shot 86-77—163 to win a 2-player duel in the Girls 14-and-under division at The Virtues.
Hollenbaugh built a 9-shot lead in the first round, then followed up with birdies at 9 and 18 Sunday for her best round. She was able to deliver a 24-shot victory over Anna Coccia.
Armbruster finishes strong in Boys 13-and-Under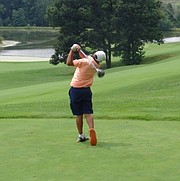 Ben Armbruster rallied on the back nine Sunday to claim a 1-shot victory over Logan McCarrell in the Boys 13-and-under division at The Virtues.
Armbruster trailed McCarrell by three shots entering the final round the posted birdies at 14, 15 and 16 that propelled him to a tie for the lead. Armbruster's par on 18 was good enough for the win as McCarrell finished with a bogey.
Armbruster shot rounds of 74-70—144 while McCarrell came in at 71-74—145. Jack O'Donnell shot 78-74—152 to finish in a tie for third place with Dhruv Kumar (74-78—152).