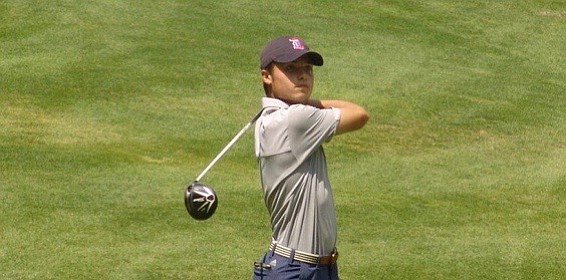 ANN ARBOR, Mich. – Drew Tucci fired rounds of 71-74—145 en route to capturing the Boys 16-19 division at the University of Michigan Golf Course.
Photo Gallery
UM July 19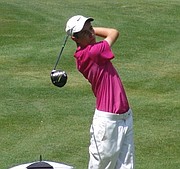 Tucci began the final round tied for the lead with Anthony Comito then assumed sole control with an even-par outward nine of the final round. Despite one bogey and a double bogey on the inward nine, Tucci's seven pars during that stretch were enough to hold off a charge from Ethan Snyder, who played the last 12 holes in bogey-free 2-under-par.
Snyder finished at 77-71—148 to finish in a tied for second with Brendan O'Rourke (76-72—148), Malik Jawad (73-75—148) and Nolan Schrand (72-76—148).
Anthony Comito (71-78—149) would slide back into a tie for sixth place with Christopher Comito (75-74—149) and Henry Scavone (73-76—149).
Whatley rolls in Girls 15-19
Nicole Whatley went wire-to-wire in cruising to a 5-shot victory in the Girls 15-19 division at the University of Michigan Golf Course.
Whatley put together rounds of 76-73—149 beating runner-up Taby Robinson. In the final round, Whatley scattered five birdies including one at the opening hole and another to close out the round at 18. That followed up an opening round that included four birdies on the first seven holes.
Robinson finished with rounds of 79-75—154 to beat third-place finisher Taylor Kehoe by one shot. Kehoe had rallied with three birdies on the inward nine to shoot 81-74—155.
The top five was rounded out by Danielle Staskowski (81-76—157) and Lauren ay (84-74—158).
Mauro's 1-Under-Par round wins Boys 14-15
Alex Mauro fired the only sub-par round of the tournament as he closed with a 1-under-par 70 to win the Boys 14-15 division at the University of Michigan Golf Course.
Mauro shot 75-70—145 in claiming the victory, four shots ahead of Marcus Smith (76-73—149).
Leading by just a shot after the first round, Mauro posted birdies at 1 and 9 during a bogey-free stretch through 11 holes.
Colin Flanders shot 80-76—156 to finish alone in third place while Benny Burgan came in fourth at 79-83—162.
Dull wins duel in Girls 14-and-Under
Kyleigh Dull shot 77-84—161 to beat Anna Watson by two shots in a 2-player match to decide the Girls 14-and-under champion at the University of Michigan Golf Course.
Dull held a 1-shot lead with two to play and made par on both. Watson's double bogey-bogey finish left Dull with the victory.
Watson shot rounds of 79-84—163.
Stassinopoulos wins tight battle in Boys 13-and-Under
Peter Stassinopoulos' birdie at the 17th hole was critical in pulling out a 1-shot victory over Perry Johnson in the Boys 13-and-under division at the University of Michigan Golf Course.
Stassinopoulos finished with rounds of 78-85—163 while Johnson shot 78-86—164.
With two holes to play, Johnson held a 1-shot lead, then Stassinopolous made birdie at the par-4 17th to go back on top.
Brendan Knight finished third at 96-84—180.