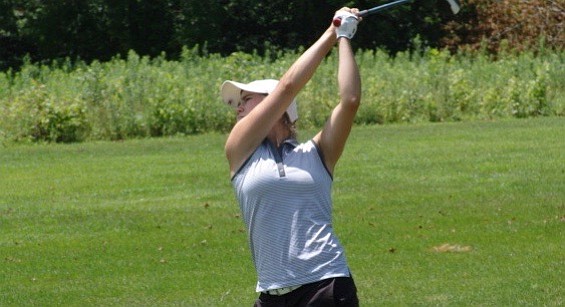 COLLEGE CORNER, Ohio – Kristin Jamieson fired rounds of 77-75—152 in a wire-to-wire victory in the Girls 15-19 division event at Hueston Woods.
Photo Gallery
Hueston Woods 7/16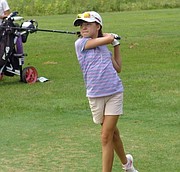 Jamieson carried a 2-shot lead over Whitney Messer into the final round and never let anyone get any closer as she played the first 15 holes of the final round in just 1-over-par.
Despite a bogey on the opening hole, Jamieson was able to follow up with seven straight pars as Messer struggled early in the round. Jamieson's birdie at the par-4 15th would be her only one of the round, but would secure a victory seven shots ahead of Messer and Kayla Ramsey.
Messer finished at 79-80—159 and shared second place with Ramsey who rallied for 85-74—159.
Leyton Brumfield shot 86-76—162 to finish alone in fourth place.
Johnson pulls away in Boys 16-19 Division
Javan Johnson emerged from a pack of six players who all had realistic chances of winning the final day and took the crown in the Boys 16-19 division at Hueston Woods.
Johnson opened with a 72 to take the first round lead while four other players sat within two shots. On a tough scoring day for the second round, Johnson made bogey on three of his first four holes, putting him behind George Mitchell and Justin Horn at that point.
Johnson would birdie the sixth then ran home critical birdies later in the round at 14 and 15 to put him back in front. Pars on the last two holes would secure the win as Johnson finished with rounds of 72-77—149.
Mitchell (74-77—151) was part of group of players tied for second place. Sharing the honors with Mitchell were Nicholas Stuedli (74-77—151) and Horn (73-78—151).
Jack Lindgren made a nice round the final round and finished at 79-74—153, tying him for fifth place with Guillermo Villa (74-79—153).
Beckett survives for win in Boys 14-15
Despite a rough start to the final round, Jack Beckett finished strong and held on to win the Boys 14-15 division at Hueston Woods by three shots over Justin Gabbard and Benjamin Basta.
Having built a 6-shot lead in the first round, Becket played the first six holes of the final round in 7-over-par to bring the field back into contention. He would go on to right the ship by posting birdies at 7, 10 and 17 to close the door at 76-79—155.
Gabbard, who made three front-nine birdies to catch Beckett at that point, finished at 82-76—158 to tie for second place with Basta (84-74—158), who played the last five holes in 1-under-par.
Ben Dearth put together rounds of 83-77—160 to finish alone in fourth place.
Ritter wins three-way in Girls 14-and-Under
Anna Ritter shot 82-79—161 to win a three-way battle for the Girls 14-and-under title at Hueston Woods.
Woods began the final round tied with Kate Hanni the made par on five of her first six holes to go up by four shots. Hanni would then play the next eight holes in even par to move ahead by a shot, but a four-hole stretch in 5-over-par spelled doom for her. Ritter took advantage by making par on five of the last six holes for the victory.
Hanni finished at 82-82—164 for second place while Anna Coccia took third at 94-94—188.