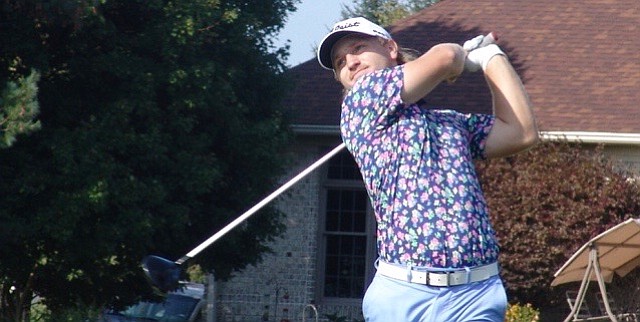 YORKTOWN, Ind. – Blake Wheeler shot the second lowest round in the Boys 14-19 division history of the GJT when he opened with a 66 then held on to win the event at Ball State University's TPC at Woodland Trails.
Photo Gallery
Ball State 8/27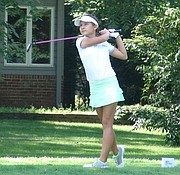 In Wheeler's opening round 66, he posted nine birdies and achieved the mark despite hitting two balls out of bounds. He followed that up with a 75, good enough for a 3-shot win over Zack Hopkins.
In the opening round, Wheeler made four straight birdies at one point and seven birdies over a 9-hole stretch. He posted four more birdies in the final round that kept him a safe distance from the field.
Hopkins fired rounds of 73-71—144 to claim sole possession of second place while Lucas Beck took third place with rounds of 75-70—145.
Matt Knight shot 75-71—146 for fourth place while Ty Gingerich (74-73—147) and Stephen Kocerha (76-71—147) rounded out the top five.
Hare notches second victory
Griffin Hare fired rounds of 72-73—145 to win for the second time in three weeks in the Boys 14-15 division Ball State.
Hare, who won two weeks ago at Notre Dame, held a 1-shot lead going into the final round and face challenges from Drew Wrightson and Hayden Adams. When he holed out for an eagle-2 on the sixth hole, Hare seemed likely to cruise to an easy win having built a 4-shot lead, but double bogeys at 11 and 13 put Wrightson and Adams in position to take over.
Wrightson held a 1-shot lead and Hare was two ahead of Adams through 13. At 14, Wrightson made double bogey and Hare took the lead for good while Adams remained two shots back the rest of the way.
Wrightson finished at 73-74—147 to finish in a tie for second with Adams, who also shot 73-74—147.
Coffey beats Weeks in Girls 15-19
Maddie Coffey shot 82-78—160 to beat Heidi Weeks in a 2-player duel in the Girls 15-19 division at Ball State.
Coffey led Weeks by three shots going into the final round then increased that lead to an insurmountable seven shots with a birdie at the fourth hole. Weeks posted a birdie at the 14th, but Coffey was in the middle of a back-nine run that included seven pars and left no openings for a challenge.
Sawyer goes wire-to-wire in Boys 13-and-Under
Joe Sawyer shot 76-78—154 in going wire-to-wire for a 5-shot win over Alec Cesare in the Boys 13-and-under division at Ball State.
Sawyer posted two birdies in each of the rounds, including one at the last on the first day to give him a 2-shot lead. His birdie at the fifth during the last round gave Sawyer at 4-shot lead and he never looked back.
After Cesare closed within three shots through 12, Sawyer responded with his second birdie and a 2-shot swing in his favor at 13.
Cesare finished with rounds of 78-81—159 to claim sole possession of second place.