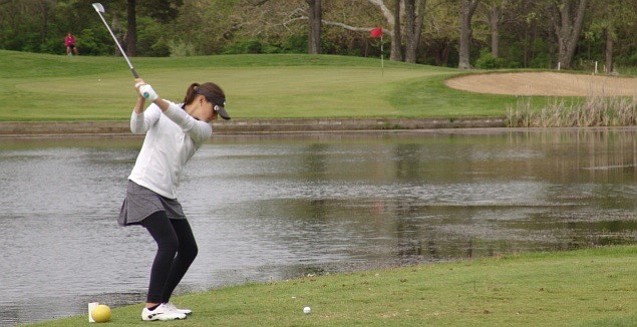 OXFORD, Ohio – Morgan Dabagia birdied four of the final seven holes in pulling out a 2-shot win in the Girls 15-19 division at Hueston Woods.
The victory was Dabagia's first in the girls older division after having won six times in the 14-and-under division.
Photo Gallery
Hueston Woods 4/23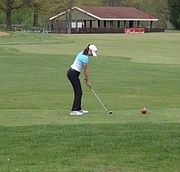 Dabagia trailed Madison Smith by one shot entering Sunday's final round and fell four shots off the pace through the first six holes. Down by two strokes entering the 12th hole, Dabagia embarked on her closing tear that included birdies at 12, 14, 15 and 18. Meanwhile, Smith made birdies of her own at 14 and 15, but made critical bogeys at 16 and 17 to finish second.
Dabagia finished with rounds of 75-72—147 while Smith finished alone in second at 74-75—149.
Natalia Sompolvorachai shot 75-75—150 to place third while Kayla Ramsey took fourth with rounds of 75-76—151.
Jami Laude rounded out the top five with rounds of 76-78—154.
Wertz wins overall boys title in playoff
Jack Wertz made birdie on the first playoff hole against Jack Hanus to capture the overall boys title at Hueston Woods, earning an exemption into the Hudson Junior Invitational and four AJGA stars.
Wertz, playing out of the Boys 14-15 division, played the final nine holes in even-par to set up the playoff. Meanwhile, Hanus came from the middle of the pack with two early birdies and two more at Nos. 13 and 14 that helped him earn the Boys 16-19 title and spot in the playoff for overall champion.
Wertz (74-75—149) held a 1-shot lead in his division after the first round and was steady throughout his Sunday round if not for a double bogey at the ninth. He churned out 14 pars and a birdie at the 14th in maintaining his lead.
Finishing tied for second three shots back were Nathan Osborn (77-75—152), Maxwell Moldovan (78-74—152) and Danny Kimes (77-75—152).
Luke Wells shot 79-74—153 to round out the top five.
Hanus wins Boys 16-19 by one
In a mad dash to the finish, Jack Hanus shot 1-under-par on his closing nine to separate himself from a group of five other challengers just three shots from the lead in the Boys 16-19 division.
Hanus shot 77-72—149 to earn the victory while four other players came up just one stroke short. Hanus' birdies at 13 and 14 made him the man to beat and his bogey at 16 would not hurt his chances and relegate him to a playoff for the overall title.
Four players battled to within a shot, but none could make the necessary birdie down the stretch.
Andrew Hinkebein made birdie at 13 then all pars the rest of the way to finish at 76-74—150 and Brodie Kajfasz, the first round leader, fell back with a bogey at 16 and double bogey at 17 for a 74-76—150 finish.
Alexander Doss played the final 13 holes in 1-under-par including a finish of eight straight pars in firing 77-73—150 while Cooper Jones' steady final round was rocked with bogeys at 16 17 to close at 78-72—150.
Trailing Hanus and the quartet one shot back was Johnny Peck, who posted rounds of 75-77—152 for sole possession of sixth place. Following Peck was Braden Smith (77-77—154), Benjamin Irvin (78-77—155) and Cooper Stalker (80-76—156).
Russell finishes strong in Girls 14-and-Under
Malllory Russell made birdies on three of her final five holes in earning a 2-shot victory over Bree Wilson in the Girls 14-and-under division at Hueston Woods.
Russell, three shots back to start the final round, managed to pull even with Wilson with just five holes remaining. At that point, Russell would make birdies at 14, 15 and 18 while Wilson closed with all pars.
Russell shot 80-76—156 for her first GJT win in five appearances while Wilson finished alone in second place at 77-81—158.
Katelyn Kuc rounded out the top three with rounds of 80-83—163.
Bellar storms to win in Boys 13-and-Under
Kash Bellar caught fire to start his final round and went on to post a 4-shot victory over Andrew White in the Boys 13-and-under division at Hueston Woods.
Trailing White by one shot entering the final round, Bellar went on to post birdies on five of the first seven holes Sunday in a run that included four straight from holes 4 to 7. Having gained control of the tournament, Bellar played the remaining 11 holes in 2-over-par to secure the win.
Bellar finished at 71-70—141 while White claimed sole possession of second place at 70-75—145.
Eric Cherubini (77-72—149), Jay Nimmo (77-72—149) and Bryce Reed (72-77—149) would all share third-place honors.