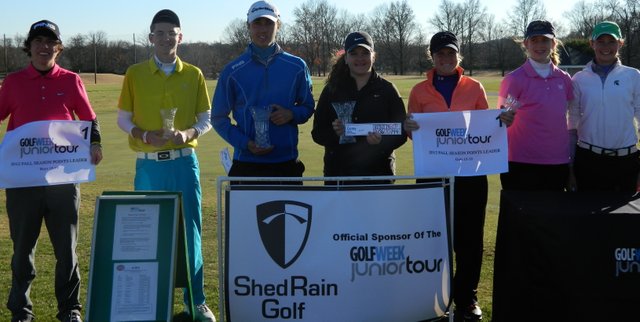 NASHVILLE, Tenn. – A three-shot swing on the final round's 13th hole helped Matt LeMay surge to victory in the GJT Midwest Region Fall Tour Championship at Hermitage Golf Club.
LeMay's opening-round 71 spotted him a one-shot lead over
Callahan Elzey and Joseph Matthews, but the lead switched hands several times throughout the day. Starting on Hermitage's 11th hole, Matthews opened with a birdie then added another at the 18th in moving ahead while Elzey was steady by carding one birdie and two bogeys through the first 10 holes.
When the three players stood on the No. 5 tee (13th hole played), Elzey and Matthews shared a one-shot lead over LeMay. There, LeMay carded a birdie-2 while both Elzey and Matthews stumbled with a double bogey and surrendering the lead.
With the lead in hand, LeMay would not let go and birdied the par-5 No. 8 for good measure before making par on the last two holes and solidifying the victory.
Elzey, who would go on to tie for second place with Dylan Meyer, was still able to sew up the Fall Season points title in the Boys 15-19 division.
LeMay finished at 71-74—145 while Elzey came in at 72-75—147. Meyer shot 75-72—147 while Devan Schulert finished hot at 79-68—148 in sharing fourth place with A.J. Varekois (73-75—148).
Matthews finished at 72-77—149 in settling for a sixth-place tie with Tyler Pearson (77-72—149). Daniel Wetterich (78-72—150) and Davis Baxter (75-75—150) shared eighth place while Ben Carroll rounded out the top ten with scores of 79-73—152.
Getty's hot finish overtakes Hack in Girls 15-19
Alyssa Getty fired a final-round 2-under-par 70 in rallying to defeat Anna Hack in the Girls 15-19 division of the Fall Tour Championship.
Getty, who started the final round four shots behind the pace set by Hack, opened with birdies on three of the first five holes in applying pressure to the leader. But after bogeys on Nos. 13 and 14 (sixth and seventh holes played) Getty still found herself with the same four-shot deficit to Hack, the Fall points champion.
Starting at No. 15 (ninth hole played), Getty would make two birdies and no bogeys the rest of the way and Hack felt the heat. After birdies on 16 and 17, Hack's lead remained at four shots, but four straight bogeys and a double bogey opened the door for Getty.
While Hack played five holes in 6-over-par, Getty was steady with all pars and moved into a two-shot lead that she would not relinquish.
Getty finished with rounds of 74-70—144 while Hack came in at 70-76—146 to finish alone in second place. Jenna Burris claimed sole possession of third place with rounds of 77-75—152 while Lexie Toth took fourth at 81-72—153.
Dix hangs on to win Boys 13-14 title
Peyton Dix made par on the final hole to lock up a hard-fought victory over Joseph Weller in the Boys 13-14 division of the Fall Championship.
Dix started the final round with a three-shot lead over Weller, but after six bogeys on the opening nine Dix had fallen behind. On the back nine, Dix re-grouped with six straight pars and took advantage of Weller's double bogey at the 11th to move back in front.
Weller engineered a two-shot swing in his favor with a birdie at the 17th to close Dix' lead to one, but both carded pars on the final hole to seal the victory for Dix.
Dix finished 80-81—161 for the win while Weller came in at 83-79—152 for second place. Andrew Wood claimed sole possession of third with rounds of 87-79—166/
Benge wins playoff in Girls 14-and-Under
Kayla Benge's bogey on the first playoff hole earned her a victory over Julia Dean in the Girls 14-and-under division at the Fall Championship.
Benge shot 93-80—173 in coming from behind to set up the playoff with Dean, who fired rounds of 92-81—173.
The key for Benge came during a three-hole stretch on the inward nine in which she carded three straight birdies to surge into contention. Meanwhile, Dean had steadied her game after a rough start that included four double bogeys in the first seven holes. Like Benge, Dean shot 37 on the closing nine and finished with a bogey at the last hole.
Nicole Gerome, the first-round leader, finished alone in third place with rounds of 90-87—177.