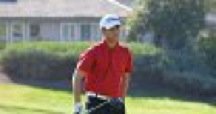 TEMECULA, Calif. – Michael Alvarez birdied the last two holes in pulling out a 2-shot victory over Alex Rhee and Michael Kirby in the West region event at Temeku Hills.
Alvarez fired rounds of 75-71—146 in winning the Collegiate Prep Boys division, separating himself from a four-way tie after the first day.
Alvarez began the day tied with Rhee, Kirby and Kevin Cline then went out and made birdie at the first hole for a brief lead. Rhee was steady most of the day and moved ahead with a birdie on 13, but a bogey at the 17th combined with Alvarez's two finishing birdies sealed the deal.
Rhee finished at 75-73—148, the same breakdown as Kirby. Ellis Messian shot 77-75—152 for sole possession of fourth place while Cline took fifth at 75-80—155.
Petchel outduels Tsai in Collegiate Prep Girls
Texie June Petchel notched her fourth first-place finish on the GJT by holding off Hsin-Ju Tsai by two shots at Temeku Hills.
Petchel, who started the final round two shots ahead of Tsai, dropped to one shot back following a bogey at the ninth, but she played the next four holes in 1-under-par to re-gain her two-shot advantage. Nursing a one-shot lead into the final hole, Petchel left little doubt to her victory with a birdie at the last.
Petchel finished with rounds of 76-76—152 while Tsai came in at 78-76—154.
Yubin Huh (81-84—165) and Megan Chao (86-82—168) rounded out the field.
Brame wins playoff in Boys 13-15
Brandon Brame went to a playoff to defeat Jose Olazabal in the Boys 13-15 division at Temeku Hills.
Brame started the final round two shots behind Olazabal, Kaden Page and Woo Kyung Kim then managed a hot stretch of three birdies in four holes from 11-14. That helped him to a 1-under-par 71 and the low round of the event, setting up the playoff with Olazabal.
Brame finished at 76-71—147 while Olazabal shot 74-73—147. Page fell back to sole possession of third place with rounds of 74-76—150 while Kim came in fourth at 74-78—152.
Ranches earns second win in Girls 14-and-Under
April Ranches fired rounds of 82-77—159 to beat Yuree Huh by five shots in the Girls 14-and-Under division at Temeku Hills. The win was Ranches third this season in three events.
Ranches had to overcome a four-shot deficit to Huh in the final round and did so by playing the first 10 holes in just 1-over-par. That start pulled Ranches even with Huh through 11 holes and she would take advantage of Huh's double bogeys at 12 and 13 to take a lead she would not relinquish.
Hugh finished with rounds of 78-86—164 for sole possession of second place.
Moriyama rallies for win in Boys 11-12
Yuki Moriyama played the final four holes in 1-under-par to rally from four shots back in winning the Boys 11-12 division at Temeku Hills.
Moriyama trailed James Song by four shots entering the final round and remained there with just five holes to play. Moriyama would birdie the 17th and make no other mistakes while Song stumbled with a double bogey at 14 and three more bogeys coming home.
Moriyama finished with rounds of 77-74—151 while Song shot 73-79—152. Brendan Gonzalez played the final five holes in 1-under-par to battle his way into a tie for second with rounds of 78-74—152. Jackson Rivera rounded out the top four with rounds of 76-77—153.