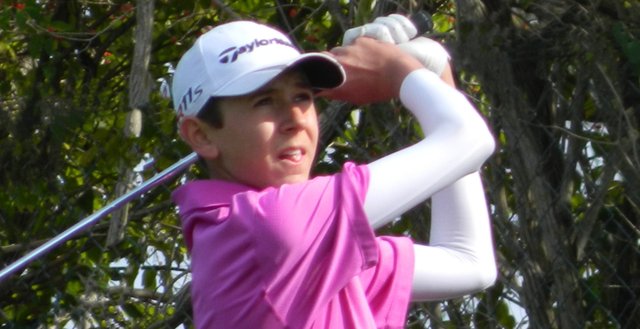 LEXINGTON, Ky. – Daniel Wetterich fired rounds of 70-73—143 to earn a 1-shot victory over John Augenstein in the Midwest region event at the University of Kentucky.
Wetterich, last season's Boys 14-15 Player of the Year, parlayed his hole-out for eagle from 140 yards on the 12th hole the first day into a share of the lead. His opening-round 70 forged a tie with Will Grimmer and Chandler Morgan, but a double bogey on the final round's opening hole put Wetterich behind early.
Wetterich played steady the rest of the way in even par, bolstered by birdies at 10 and 11. Grimmer and Morgan faded with 77 and 78, respectively, in the final round and that opened the door for a charge from Augenstein.
Augenstein, playing in the group ahead of Wetterich, started his charge with five holes to play. At the 14th, Augenstein stood four shots off Wetterich's lead, but he went on to birdie that hole and added another at the 16th. His final-round 71 forced Wetterich to par the final hole in securing the victory.
Augenstein finished alone in second place with rounds of 73-71—144 while Grimmer (70-77—147) and Matthew Mahle (77-70—147) tied for third place. John Williams (77-71—148), Tyler Pearson (76-72—148) and Morgan shared fifth-place (70-78—148).
The victory earned Wetterich four AJGA performance stars.
Hack cruises in Girls 15-19
Anna Hack fired the only even-par round in the Girls 15-19 field and cruised to a 6-shot win over Madison Thomas at the University Club of Kentucky.
Hack shot 74-71—145 and opened up a tight match with birdies on her 10th and 12th holes of the final round. Heading to the inward nine, Hack led Thomas by just three shots, but after her birdie on No. 3 (12th hole played) the lead had expanded to an insurmountable seven shots.
Hack, who is currently No. 374 in the Golfweek/Sagarin junior rankings, carded three birdies and three pars in the final round in which no other player was able to match par.
Thomas finished alone in second place with rounds of 75-76—151 while Maddie Hamilton grabbed third with rounds of 80-74—154. Cayce Hendrickson shot 77-78—155 for fourth place while Amanda Detmer took fifth at 79-79—158.
Hamilton earns playoff win in Boys 13-14
Allen Hamilton sank a 5-foot par putt on the second playoff hole to defeat Carter Skipworth in the Boys 13-14 division at the University Club of Kentucky.
Skipworth had bogeyed two of the final three holes in regulation to set up the playoff, then sank a 12-footer on the first playoff hole to extend the match.
The victory was Hamilton's first in four tries on the GJT this season and marked his fourth top-4 finish as well.
Hamilton fired rounds of 77-76—153 while Skipworth shot 78-75—153. Zach Norris claimed sole possession of second place with rounds of 79-75—154 while Mitchell McFarland took fourth at 78-79—157.
Geer survives tight battle in Girls 14-and-Under
Allyson Geer's par on the final hole secured her fourth GJT victory in the Girls 14-and-Under division at the University Club of Kentucky.
Geer finished with rounds of 86-82—168 and held off Moyea Russell (84-85—169) by one shot. Geer and Russell both birdied their 17th hole and entered the final hole tied for the lead. At the last, Geer secured victory with her par as Russell carded bogey there.
Julia Dean shot 91-83—174 to earn third-place honors while Morgan Bowen grabbed fourth with rounds of 93-84—177.
Filo earns second GJT win in Boys 12-and-Under
Adam Filo shot 81-83—164 in the Boys 12-and-Under division at the University Club of Kentucky, securing a 4-shot win over George Doyle, his second in 10 events on the GJT.
Filo carried a 3-shot lead over Doyle into the final round and Doyle drew even through the first four holes. After Doyle carded consecutive double bogeys, Filo quickly went back on top for good, eventually stretching his lead to as much as five shots at one point and leaving no room for anyone to catch him.
Doyle shot 84-84—168 and was able to hold onto second place ahead of Jay Kirchdorfer, who fired rounds of 91-78—169.