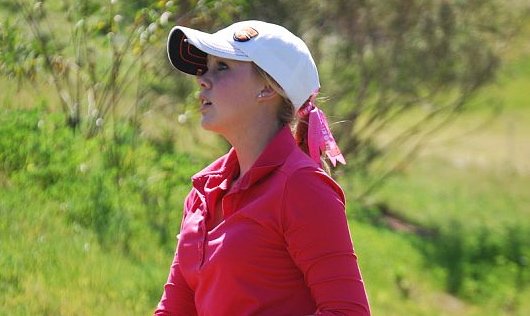 VALLEY CENTER, Calif. – Temecula's Texie June Petchel fired rounds of 74-76—150 to notch her first GJT win in the Girls 15-18 West region event at Woods Valley Golf Club.
Petchel grabbed the lead early in the opening round and held on for a wire-to-wire finish, three shots ahead of Poway's Nastasia Kossacky and Oceanside's Alyssa Waite.
Holding a two-shot lead over Kossacky entering the final round, Petchel wasted little time creating some space between her and the challengers by making birdie on the opening hole. When Kossacky bogeyed each of the holes 3 through 6 Petchel's lead ballooned to six strokes.
Waite, who shot 80 in the opening round and trailed by six shots, made a great charge in the final round by playing the first 10 holes in 3-under-par. That put her within one shot of the lead at that moment, but a bogey-bogey finish relegated her to a tie for second place with Kossacky.
Kossacky finished at 76-77—153 while Waite came in at 80-73—153 for her best finish in three events this year.
Oceanside's Natalie Vivaldi shot 79-79—158 for sole possession of fourth place while Ava Lourenco placed fifth at 81-78—159.
Castillo cruises to 6-shot win in Boys 16-19
Derek Castillo fired a final-round 1-under-par 71 in blazing to a six-shot victory over Kevin Nhim in the Boys 16-19 division at Woods Valley.
Through the first nine holes of the final round, Castillo and Nhim shared the lead before Castillo caught fire. A birdie on the par-4 10th put Castillo up by a shot before an eagle-3 at the 11th created a four-shot swing in his favor. He would play the final seven holes in even-par to cruise to the victory.
Castillo finished with rounds of 74-71—145 for the win while Nhim claimed second place with rounds of 75-76—151. Christian Welsh (82-70—152) and Andrew Rudy (77-75—152) shared third place.
Yu holds of Yan by a stroke in Boys 13-15
Sean Yu closed with a 1-under-par back nine in the final round at Woods Valley to pull out a one-shot victory over Sihao Yan in the Boys 13-15 division.
Yu started the final round one shot behind Yan and remained there through the first nine holes of Sunday's final round. He birdied the 10th hole to pull even before making par on each of the final eight holes. Meanwhile, Yan made critical bogeys at the 11th and 14th that cost him the lead and down the stretch could only match Yu's pars on each of the final four holes.
Yu shot 72-72—144 for his first win in two GJT events this season while Yan came in at 71-74—145.
Noah Henderson shot 80-73—153 for sole possession of third place, followed by Patrick Brown (79-78—157) and Blake Taylor (82-76—158).
McCutchan out-duels Ryan in Girls 11-14
Annie McCutchan shot 83-94—177 to beat Rebecca Ryan in a two-person duel for the Girls 11-14 division title at Woods Valley.
McCutchan made par on each of the first five holes of the first round to take total control of the match and never trailed. She built as much as a 12-shot lead in the final round but saw Ryan close the gap to just four shots through 10 holes. At that point McCutchan was able to par four of the final eight holes to pull away.
Jin rolls in Boys 11-12 division
Zihao Jin fired rounds of 75-74—149 in claiming an eight-shot win over Markopolo Fullepp in the Boys 11-12 division at Woods Valley.
Jin held a slim one-shot lead over Fullepp after the first round and the two were tied through the final round's first seven holes.
Jin's birdie at the par-3 eighth put him up by two strokes and when Fullepp made triple bogey at the ninth Jin had a comfortable margin to protect.
Fullepp finished alone in second place with rounds of 76-81—157 while Justin Graf took third at 82-76—158.
Jung goes low in winning Boys 10-and-Under
Andrew Jung put together back-to-back rounds of 1-under-par 71 to earn a nine-shot win over Yuki Moriyama in the Boys 10-and-Under division at Woods Valley.
Jung notched six birdies over the two rounds and put together a final round with two birdies and just one lone bogey.
Moriyama shot 73-78—151 for second place, followed by Ethan Dezzani at 73-79—152.